You Pick, I Knit
Today is public holiday. Eventhough it doesn't make much difference to me, I'm glad I get to enjoy a quiet day at home. Woke up around nine, make myself a cuppa tea, turn on Ray Charles's cd then continue to work on bluegina. For anyone who doesn't know me much, I'm a huge fan of jazz and blues.
Okay, back to bluegina. Finished the lace pattern around noon. By four, the front piece is almost near completion. I tell y'all my needles were flying. I guess my knitting mood is back again. It took me about twenty minutes to seam and now it's finally done. Phew! Bluegina does look a little small on me, but I guess it will fit my sister very well. She's a lot more petite compare to my size. I know I have been bitching a lot about knitting this top. But hey, don't get me wrong, I love this pattern. I think the design is brilliant. Anyhow, I don't think I'll be knitting it again, for the third time, no way!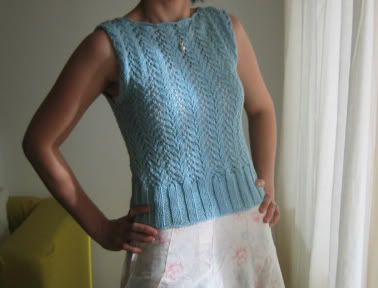 Pattern : Glampyre.com
Yarn : Adriafil Cotone Povero
Needles : 4.25mm and 3.75mm bamboo circulars
Okay, since Bluegina is off my list, done frogging Snug Polo Neck Sweater. I think I only have two UFO's left, really need to get a head start on my christmas knitting. I narrowed down two pretty cardis that I have been wanting to make. But the problem is, I really can't decide. Can you help me with this? All you need to do, is to vote the best from these two patterns and I'll make it.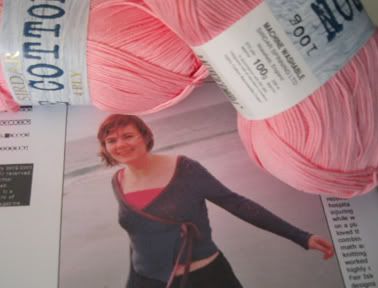 Pattern 1 - Arisaig from knitty
Yarn - Sirdar Pure Cotton 4ply in Sweet Coral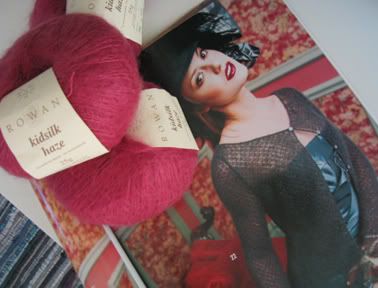 Pattern 2 - Lacy Cardigan from Vogue Holiday Knitting
Yarn - Kidsilk Haze in Blushes
p/s: Thank you so much for everyone nice and supportive comments on those flower pins. I plan to make more and put up some for sale before christmas. Stay tuned, kay!