Cotton Candy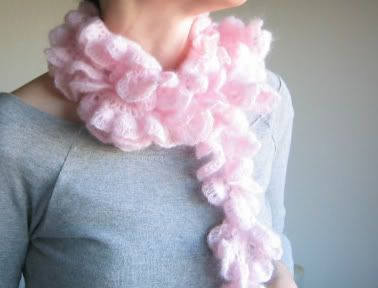 Ta! Ta! I finished my ruffle scart last nite. I'm loving it. I felt like I'm wearing a string on cotton candy around my neck. Do you think it is overly done? This is probably one of the most girly thing I've made.
Pattern : Puppyarn Company - Let's Knit Series Autumn & Winter 2004-2005
Yarn : 21/4 ball of Kid Merino in Blush
Needles : size 4 crochet hook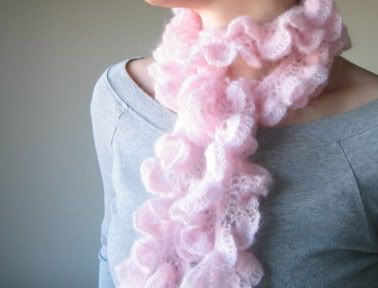 I highly recommend kid merino if you like to make a ruffle scarf youself. It is so soft and doesn't itch at all when you wrap it around your neck. Kid merino comes in many yummy colors and they even have the printed version if you like them. I honestly think it's worth a try, consider this lace weight yarn cost only half the price of ksh.
Anyways, I just stumbled across a very cute capelet in garnstudio free pattern site. I'm ithching to cast on another new project. Well, I know I'm not suppose to, since I still have a few unfinish projects lying around. But who cares huh? There's no knitting police and I don't think anyone is going to give me a ticket for having too many projects. Have a great weekend and happy knitting.