Another Pink FO
Thanks so much for your kind comments on my linen bag, everyone! I'm so flattered. Frankly, the bag look so much better in the pictures than in person. If you look closer, you'll be able to spot all those crooked sticthes. Anyways, thanks again for all your heart felt comments.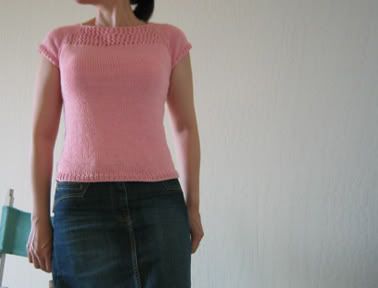 Pattern : Green Gable from Zephyr Style
Yarn : 2 Skeins of Cotton Fleece in Peek-A-Boo Pink
Needle : 4.5mm and 5mm Addi Turbo Circular
Size: Small for 34"
Cost for this project: $20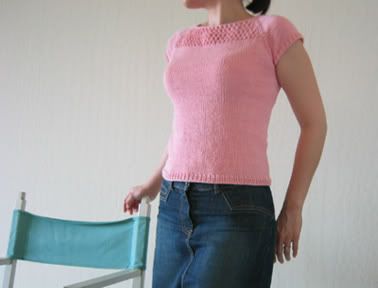 Yes, finally an FO. I hope you're not tired of seeing another pink project. I have to admit I have a thing for pink lately. Overall, this top turned out not bad, I think. It came out a wee bit smaller than I thought, but I'm hoping the tension will ease up a little once I take it for a quick wash. Now I'm thinking to sew a matching skirt for the top. Anyways, If you're still looking for a quick project for summer. Green Gable is definitely a great choice. The pattern is super easy to follow. It does not require much yarn. All you need is an hour or two a day and you'll have an FO in about a week.