What's Up Next?
Arrgg! I can't believe it took so long for blogger to load up. I waited nearly 15 mins for this to work. I'm seriously thinking to drop this and switch to something better. Anyways, while I was waiting...I divided stitches for armholes, cast on stitches for underarm and knitted a few rounds.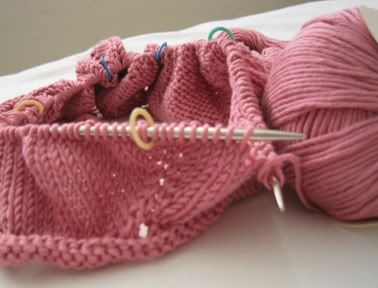 Can you tell I'm getting the hang of knitting in around? I just got another cute pattern by
Zephyr Style
. My fingers are itching to knit this up. I don't have any knitpicks Elegance in my stash, so I'm going to substitute with Debbie Bliss Merino DK. Still haven't had the time to do a swatch yet, but I'm hoping DB Merino DK will work just fine. Anyways, it's so gorgeous out there. I'm off to the park with picovoli in my purse.