Good Things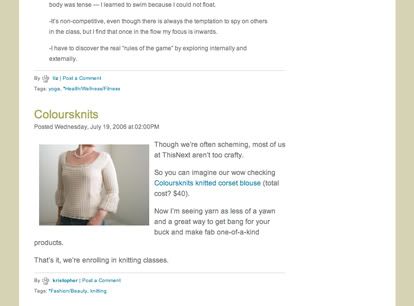 My blog exists because I love knitting, my obssesion to fibers and crafts. But being recognized is always special, whether it's by fellow knittes or other bloggers. Couple days ago, Kristopher Dukes at This next blog mentioned my blog and blogged about the recent finished project--Corset Pullover. Which I think is pretty cool. (Though I probably shouldn't take any credit since I'm not the original designer) Anyways, I'm still a little over the moon that I actually inspired non-knitters to pick up their sticks. That's so awesome huh?
Well since we are on the topic about blogging. I'd also like to take this opportunity to thank everyone who visits and takes time to leave me comment. Especially to those who regularly comment even though I do not reply as offend as I should. I promise I'll work on that. Apart from that, I'm sure you also noticed that I rarely have anything interesting to say. Half the time I don't even know what to write. I work, I sleep, I knit, I buy yarn, I work out. Occasionally I clean, do laundry, dishes and vacuuming. Oh, god, this is a boring..... So, last but not least, please pardon my poor writting, horrible grammar and silly typos. Thanks for sticking around. The End!
So news on knitting...cast on Jarret on Monday, had about 6" done. I absolutely love love working with Rowanspun DK. It's surprisingly light and airy. Beautiful tweed effect once knitted up. I know I'm not suppose to buy anymore yarn, will you be mad if I hoard another bag..hehehe...Aside from that, I also finished the back for Cherry. I'm going to cast on the front panel and get some pictures up this weekend.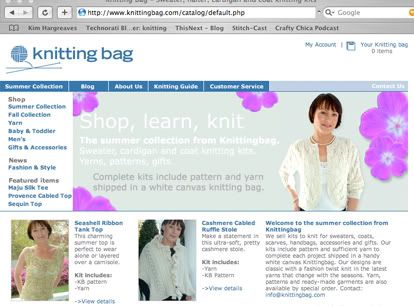 Before I forget, today's post also has an agenda. I would like to share with you some wonderful knitting patterns and kits I found from knitting bag. The owner, Marcia and I exchanged a couple of emails about my silly post. And we had some interesting conversations about our knitting life. Marcia also has a blog she update regularly about her latest creations and fashion trend. Very nice lady, super talented and has a great sense of style. She's currently working on the Fall report and will be selling her pretty patterns to yarn stores.
Alrighty folks, I'm going to the post office to drop off all the packages. The destash sale was quite a success - everything is gone except those bright pink powder puffs which I doubt I'll ever use. So if you're still interested, please make an offer. I think we're going to hit triple digits again this weekend. Stay cool everyone, have a great weekend!