Another great weekend is over...
I hope everyone had a good break this weekend, mine was awesome. I didn't get much rest but managed to squeeze in a bunch of activities in just a few days. Despite the bridge closure, DH and I drove across the bay to have lunch at my favorite Thai Restaurant on Clement Street. I ordered the same dish again, yup! Never get tired of it-- stir fried flat rice noodle with basil and chicken...yum!
After lunch, we walked across the street to get my long over due haircut and followed by yarn shopping at Imagiknits. Can you believe I walked out the store with just one skein of yarn and a couple of rowan magazines? Pretty good self control over there huh. Well, I'm trying to save some money for fall knits which are still in planning mode, so I share some thoughts with you once I narrow down my options.
Initially, we had planned on driving down to SoCal saturday morning, since DH had to finish some work at home, we postponed out trip to sunday. Which worked out just fine. We drove along the coast and had a few quick stops at Monterey, Carmel, Big Sur, Lucia and San Simeon which is our final stop. I took a bunch of pictures at Hearst Castle. Such a magnificent place, breathtaking views! I'll remember to upload some pictures in my next post.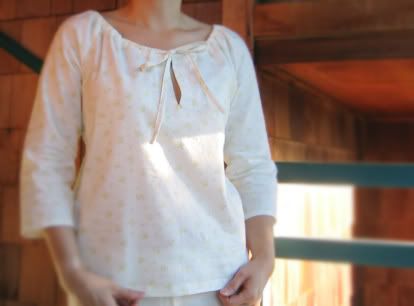 Other than eating, shopping and sight seeing, I also managed to finish another sewing project with some fabrics I bought onsale for $2.99 a yard. I figured for the first shirt I make it should be something simple with less details to hide any bad stitches. It worked! It looks pretty good, but only if you don't know what to look for. DH said If I make a matching pants to go with it, it'll look exactly like a set of pjs. Anyways, this peasant style top is very fast and easy to make, especially if you omit the ruffle sleeves.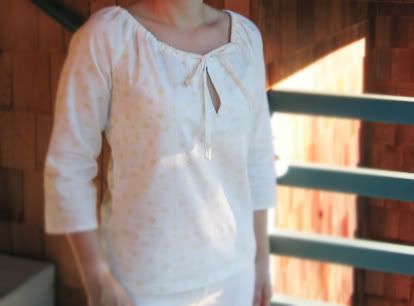 Pattern : New Look 6179
Difficulty Level : 2
Fabric Cost : $6
Size: Small for 32"
Modification : Shorten the bodice about 3", omit ruffle sleeves and modified to 3/4 sleeve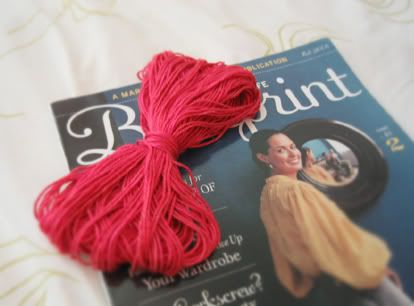 Oh before I forget, thank you so much for all your nice comments on Swallowtail Shawl. Pardon me for not elaborate much. I had a crazy day at work and was too tired to write. Well, needless to say, I'm very pleased and satisfied with this project. The finished shawl totally surpassed my expections. The pattern was easy to follow and of course seasilk is such a dream to knit. Well, if you curious, here's how much left over yarn I had. I didn't measure it but looks like there's atleast 6-8 yards left. Thanks again for stopping by and hope you all have a pleasant week.