Strike Two
Before the weekend, I had planned on taking some pretty outdoor pictures with my finished cable sweater. I had even thought about may be I can find a wooden bench at the park. Where I can capture those beautiful fall foliage and trees. Unfortunately when I got up this morning, it started to drizzle and the rain continued for the rest of the afternoon. So I decided to stay home, do my regular house chores and work on the poma sock. At about 3pm, I noticed the sun starting to peek through, I put on my jeans, grab the camera, sholve the sweater in the bag and dash to the balcony.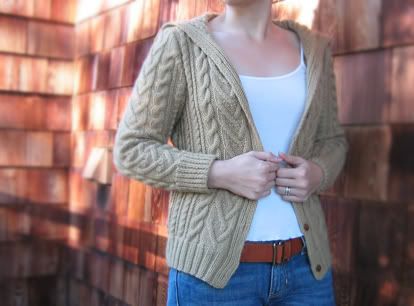 Two weeks ago, I vowed to myself that I can't cast on anything new until I take atleast one item off the wip list. My determination finally pays off. With that said, I have two FOs to show you this time. First off, is the long over due cable sweater started back in March. Second, a simple yet complicated project that took me forever to finish -- buttercup aka troublecup. A short sleeve cropped bolero/shrug that I may not get to wear till next spring or summer.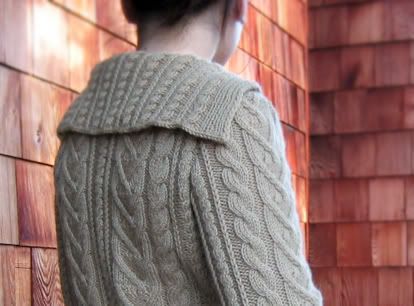 Pattern : Bergere de France
Yarn : 10 Balls of Knitpicks Wool of Andes in Snickerdoodle
Needle : 4mm & 4.5mm addi circular
Cost for this project: $35
Notes about this project...
I was very skeptical about this KP yarn. Wasn't sure how it'll turn out with the cables. But surprisingly, it came out rather light after a couple days of heavy blocking. I'll definitely give this yarn another try in the future. The pattern was pretty easy except for the construction of collar.

Modifications...

No mods, but if you pay attention closely, you may noticed there 's a little screw-up on the sweater. It was way too late to salvage by the time I realized the mistake, so I decided to just let it go.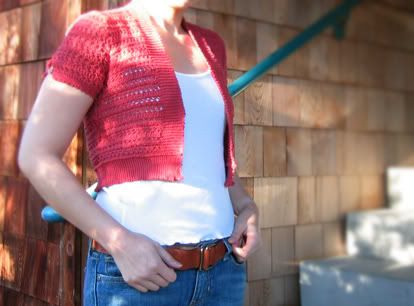 Pattern : Buttercup from Kim Hargreaves
Yarn : 4.5balls of Rowan 4ply cotton in Bloom
Needle : 1mm, 2mm & 21/4mm addi circular
Cost for this project: $30
Notes about this project...
This little project was an enjoyable knit untill you reach certain part of the pattern. I know some of you probably heard me complain about it numerous time. So I'm not going to while about it. Inconclusion, all I can say is, be patience and pay close attention to the number of sticthes you have on your needle.
Modifications...
No mods to the pattern. The one thing that bumped me out is the long "&%#" tie-on that I can't seems to get done. So, I decided to just knit till a desire length and then seam it on the bodice without any closure. I know it looks kind of unfinished at this point. However, I think I'm just going to leave it as it until I decide something. There are two buttons left from the sleeve. May be I can sew it to the front band, so that I can have it button up if I want to.